Fantastic Pub Fare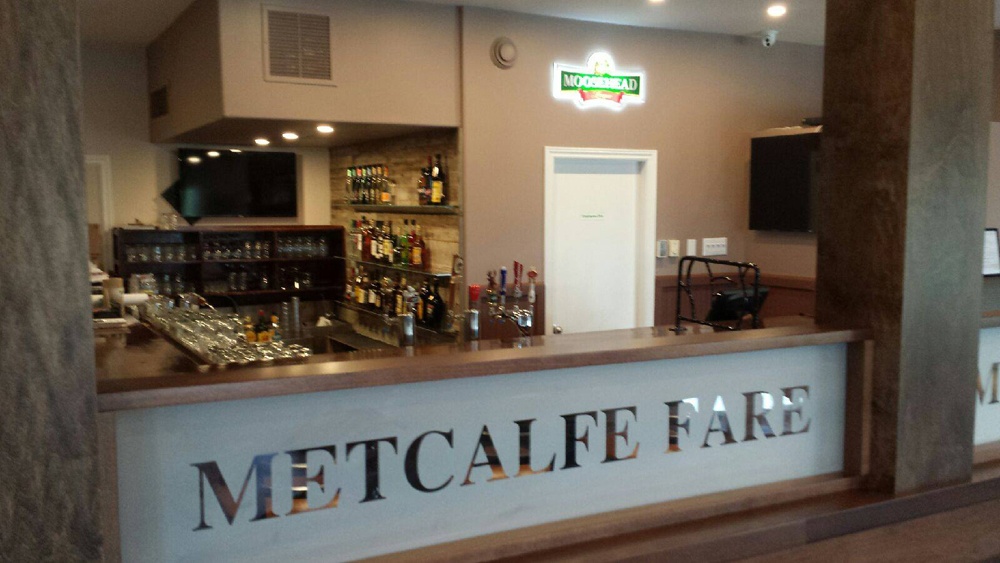 At Fair Prices
Metcalfe Fare serves delicious pub fare in Ottawa, ON. We make our food with fresh and high-quality ingredients, so you can enjoy a fabulous meal at any time of the day.
Menu:
BREAKFAST
Available Monday to Thursday 9am to 12 pm & Friday to Sunday 8am - 2pm
All Breakfast are served with choice of: Home fries or tomato slices, choice of toast and coffee or tea.
Bagel & Cream Cheese
Two eggs any style , choice of: bacon, ham or sausage
$4.50

Basic Breakfast
Two eggs any style , choice of: bacon, ham or sausage
$8.75
Fare Breakfast
Three eggs any style, includes bacon, ham and sausage
$16.99

Eggs Benedict
Two poached eggs on a toasted English mun, with a rich hollandaise sauce. Choice of ham, smoked meat, tomato or mushroom.
$14.99
Cheese Omelet
Add onions, green pepper, tomato, bacon, sausage, or ham for $0.99

$12.99

Breakfast Poutine
Homefries and hollandaise sauce topped with a poached egg
$11.99

The Alexandria
Savory potato, tossed with sausage, peppers, onions, and scrambled eggs, topped with cheese & oven baked
$14.99
Classic French Toast
Fresh bread dipped in egg batter topped with fresh fruit

$10.99
Berry Crisp French Toast
Panko coated French toast with berries, raspberry coulis, crème anglais, and whipped cream

$15.99
Nutella Banana Crisp French Toast
Panko coated French toast with Nutella, banana and crème anglais, and whipped cream

$15.99

BREAKFAST SANDWICH
Western Sandwich $6.00
Scrambled egg, diced ham , onion, and sweet peppers
Metcalfe Muffin $6.00
Fried egg with cheddar cheese and bacon on an English muffin
BLT $6.00
Bacon, lettuce & tomato sandwich with mayo

EXTRAS
1 egg $1.50
Bacon (3 pcs) $3.00
Ham (2 pcs) $3.00
Sausage (3 pcs) $3.00
Toast or Eng. Muffin $2.00
Bagel $2.00

Fruit Plate $5.00
Home Fries $3.00
APPETIZERS
Soup of the Day
Our Chef's creations made daily
$6.25
Homemade Fries
Fresh cut fries
$7.99
Sweet Potato Fries
Served with chipotle mayo

$9.99
Onion rings
Served with house dressing

$9.99

Deep Fried Pickles
Served with house dressing

$11.99
Deep Fried Zucchini
Served with garlic dip and a lemon wedge

$12.99
Mozzarella Sticks
Mozzarella lightly battered in a crisp shell served with marinara sauce
$12.99
Chicken Wings (Breaded or baked)
Your choice of sauce: BBQ, Medium, Hot, Suicide, Honey Garlic, Cajun Dusted, Lemon Pepper, Salt & Pepper, Mango Habanero, Siracha Lime, Sweet Thai Chili
Served with one sour cream
Additional dip $0.99
1lb. $13.99
2lb. $23.00

Fare Nachos
Corn chips, cheese, tomatoes and green onions, served with side sour cream and salsa
Add chicken or beef $5
Add guacamole $3
$13.99
Loaded Potato Skins
Potato shell with cheddar mixed cheese, bacon and green onion served with sour cream

$12.99

Calamari
Lightly battered and deep fried with banana peppers served with chipotle mayo

$13.99

Garlic Bread With Cheese
Add bacon $3.00

$10.99
Sliders
Three pulled pork or beef patty mini burgers

$12.99

Bruschetta

$13.99

Mussels
Served in a white wine cream or classic tomato sauce with garlic bread

$14.99

Tzatziki and Hummus Dip
Served with warm garlic pita wedges

$13.99

Egg Rolls
Served with plum or soy sauce
$1.75 each


APPETIZER COMBINATION PLATTERS

Not served between 11am-2pm and 6pm-8pm.
No substitutions
3 App Combo $14.99
Chicken Wings, Deep Fried Zucchini, and Deep Fried Pickles
5 App Combo $19.99
Chicken Wings, Deep Fried Zucchini, Deep Fried Pickles, Mozzerella Sticks, and Egg Rolls

Served with 3 dips / Each additional dip $.99

SALADS
House Salad
Spring mix with tomato, red onion and cucumber served with choice of dressing
$11.99
Caesar Salad
Romaine lettuce tossed with Caesar dressing, bacon, croutons and parmesan cheese
$11.99
Cobb Salad
Spring mix, bacon , chicken, boiled egg, avocado, cheese, and dressing

$14.99

Greek Salad
Romaine lettuce ,cucumber, feta cheese, black olives, tomato, and red onion

$14.99

Beet Salad
Spring mix, slices of beats, red onions, candied walnuts and mandarin slices with a house made citrus dressing


$14.99

POUTINE & MAC N' CHEESE
Regular Poutine
Add-ons $0.99
Bacon, onion, tomato, sausage, pepperoni, jalapeño, ham, smoked meat, chicken and beef

$10.99

Mac n' Cheese
Add-ons $0.99
Bacon, onion, tomato, sausage, pepperoni, jalapeño, ham, smoked meat, chicken and beef

$10.99
ADD TO CHOICE SALAD
chicken breast $5
grilled steak $5
salmon fillet $7
MAIN FARE
All mains served with vegetables & choice of side:
Mashed potatoes, baked potato, fresh cut fries, sweet potato fries, seasonal
vegetables, steamed rice, or Caesar salad. Additional side $1.99
8 oz Top Sirloin
Cooked to your liking
$21.99
Meatloaf
Slow roasted beef wrapped in bacon, served with a mushroom gravy
$16.99
Liver and Onions
Served with bacon and onions with a rich homemade gravy
$16.99
Fingers & Fries
Signature chicken fingers, lightly breaded, fried to a golden crisp, served with fries

$16.99

Ginger Tofu Stir Fry
Carrots, snow peas, peppers and tofu stir fried in a ginger honey soy sauce, served on a bed of rice

$16.99

Chicken Picatta
Chicken medallions cooked in a white wine, lemon and butter sauce. served with rice and vegetables

$17.99

BURGERS
All burgers made in-house. Come dressed with onion, lettuce and tomato and served with fries.
Additional patty $6, bacon $3 Cheddar cheese $2. Vegetarian patties can be substituted for any burger
Substitute for Caesar salad, garden salad, onion rings, rice, mashed potatoes or sweet potato fries $1.99
All Beef
$13.99
add Bacon & Cheese
Seasoned with our spice blend. Add extra beef patty $6
$15.99
The 4 B Burger
Bacon, Bourbon BBQ sauce, and cheddar cheese
$16.99
Morning Glory Burger
Our bacon cheeseburger topped with a fried egg

$16.99
The Mexico Burger
Served with guacamole, salsa, jalapeños, and cheddar cheese

$16.99

Raging Bull Burger
2 Beef patties, cheddar, Swiss, jalapeño peppers, onion rings, bacon, pickle in a jalapeño garlic aioli
$24.99
Grilled Chicken Burger
Served with melted brie, cranberry mayo

$16.99
Buffalo Chicken Burger
Breaded chicken breast tossed in hot sauce with blue cheese

$16.99

Veggie Burger
You wont believe its not a hamburger patty and house made garlic sauce and cheddar cheese

$15.99

SANDWICHES & WRAPS
All served with fries. Substitute for Caesar salad, garden salad, onion rings, rice, mashed potatoes or sweet potato fries $1.99
Fare chicken sandwich
Grilled chicken breast, Cajun spice, lettuce, tomato, cheddar cheese and chipotle mayo

$16.99

Club Sandwich
Traditional club with marinated chicken, lettuce, tomato and bacon on choice of bread
$15.99
Steak Sandwich
5oz steak cooked to preference on garlic bread with sautéed mushrooms and onions
$16.99
Smoked Meat sandwich
On marble rye, served with coleslaw add Swiss cheese $1.50
$15.99
Donair Wrap
Gyro meat, lettuce, tomato and our house made garlic dip

$14.99

Reuben Sandwich
Smoked meat, topped with sauerkraut, Swiss cheese, and a creamy Thousand Island dressing on marble rye and served with coleslaw

$16.99

Meatball Sandwich
House made meatballs, mozzarella cheese, tomato sauce on a toasted baguette

$15.99
Pulled Pork Sandwich
BBQ pulled pork topped with house made coleslaw on a ciabatta bun
$15.99
Buffalo Chicken Wrap
Spicy chicken, lettuce, tomato, and cheese with a house sauce

$15.99
Chicken Caesar Wrap
Crisp romaine lettuce, bacon, Parmesan, and grilled chicken with a creamy Caesar dressing (want it spicy, just ask)
$14.99
Veggie Sandwich
Grilled portobello mushroom, red pepper, and zucchini with brie and pesto mayo

$15.99

Greek Chicken Wrap
Lettuce, tomato, chicken, feta cheese, black olives and tzatziki sauce

$15.99

PIZZA
S
M
L
Plain
Sauce cheese only
$9
$13
$20
1 Ingredient
$10.25
$14
$21
2 Ingredients
$11.25
$16
$22.25
Combination
Pepperoni, mushroom & green pepper
$12.25
$17
$24
Meat Lovers
Pepperoni, sausage, ham & bacon

$13.50
$18
$25
Canadian
Pepperoni, mushroom & bacon
$13.50
$18
$25
Veggie
Mushroom, olive, green pepper & onion

$13.50
$18
$25
Hawaiian
Ham & Pineapple
$12.25
$17
$24
BBQ Chicken Pizza
BBQ pulled chicken, red onion & BBQ sauce
$13.50
$18
$25
Sausage & Pepper
Italian sausage & hot cherry pepper
$13.50
$18
$25
The Quinns
Pepperoni, green olive & hot cherry peppers
$13.50
$18
$25
Chefs Special
Smoked meat, mushroom, green pepper, onion and hot pepper
$14
$19
$26.50
Extra Toppings
$1.75
$2.5
$4
Toppings: extra cheese, onion, green peppers, mushrooms, olives, tomatoes, pineapples, ham, pepperoni, Italian sausages, bacon, cherry peppers, jalapeños, and green onions
PASTAS
All pasta dishes are served with garlic bread
Fettuccine Alfredo
Fettuccine served in a creamy house made sauce and topped with parmesan cheese
Add Chicken $5, & Shrimp $5 add Salmon $7

$15.99
Manicotti Florentine
House made manicotti stued with spinach and ricotta, baked with cheese and a rose sauce
$16.99
Baked Spaghetti
Spaghetti tossed in a rich meat sauce topped with mozzarella & cheddar cheese & oven baked.
$16.99
Spaghetti & Meatballs
Spaghetti tossed in a tomato basil sauce with our signature meatballs
$17.99

Chicken Parmesan
Breaded chicken baked with a tomato basil sauce and mozzarella served with spaghetti
$16.99

SOUTH OF THE BORDER
Quesadilla
Mixed cheese, green onions, tomatoes and jalepenos in a flour tortilla. Served with sour cream and salsa.
Add chicken or beef $5, Guacamole $3
$12.99
Fajitas

1 Person
$18.99
2 Person
$38.99
4 Person
Chicken, beef or shrimp served with sautéed onions, lettuce, peppers, cheese, sour cream, pico de gallo, and warm tortillas.
Add guacamole $3

$56.99
Fare Tacos
Soft taco shells with grilled steak, pico de gallo, avocado, cheese, lettuce and sour cream served with a house salad and choice of medium. Hot, siracha or habanero sauce


$13.99

UNDER THE SEA
Fish tacos
Fresh battered cod , pico de gallo , lettuce with our house made lime garlic aioli sauce, served with choice of side and coleslaw

$15.99
Shrimp tacos
Battered Bam Bam Shrimp, pico de gallo, lettuce with our house made mango habanero aioli. Served with choice of side and coleslaw

$15.99

Fish and Chips
Fresh battered cod fried golden brown and served with our house made coleslaw and tartar sauce

1 piece $14.99
2 piece $18.99

Grilled Salmon
Choose from lemon pepper or Cajun, served with rice and vegetables

$18.99