Fantastic Pub Fare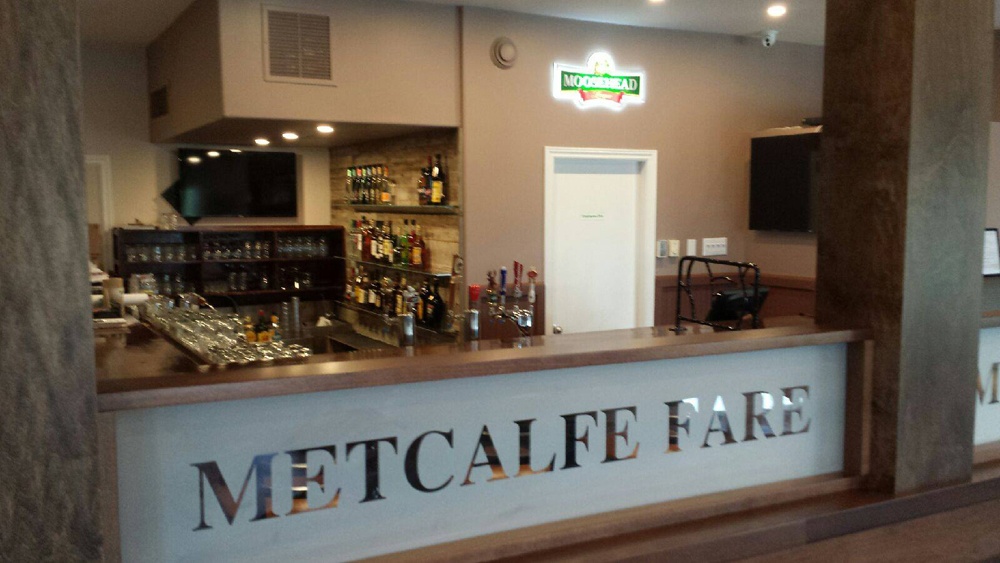 At Fair Prices
Metcalfe Fare serves delicious pub fare in Ottawa, ON. We make our food with fresh and high-quality ingredients, so you can enjoy a fabulous meal at any time of the day.
Menu:
Printable MenuPrintable Menu

BREAKFAST
Available Tuesday to Friday 630 am to 12 pm & Saturday & Sunday 630am - 2pm
All Breakfast are served with choice of: Home fries or tomato slices, choice of toast and coffee or tea.
Steak and Eggs
5oz Steak cooked the way you like it with 2 eggs any style
$19.00

Basic Breakfast
Two eggs any style , choice of: bacon, ham or sausage
$9.00
Fare Breakfast
Three eggs any style, includes bacon, ham and sausage
$17.00

Eggs Benedict
Two poached eggs on a toasted English mun, with a rich hollandaise sauce. Choice of ham, smoked meat, tomato or mushroom.
$15.00
Cheese Omelet
Add onions, green pepper, tomato, bacon, sausage, or ham for $0.99

$12.00

Breakfast Poutine
Homefries and hollandaise sauce topped with a poached egg
$12.00

Morning Glory Burger
Our bacon cheeseburger topped with a fried egg,served with home fries or tomato slices
$18.00
Classic French Toast
Three pieces of fresh bread dipped in egg batter topped with fresh fruit

$9.00
French Toast Explosion
two-piece classic french toast, topped with Nutella spread and fresh fruit
$14.00
Pancakes
Three light and fluffy pancakes
$10.00
BREAKFAST SANDWICH
Western Sandwich $6.00
Scrambled egg, diced ham , onion, and sweet peppers
Metcalfe Muffin $6.00
Fried egg with cheddar cheese and bacon on an English muffin
BLT $6.00
Bacon, lettuce & tomato sandwich with mayo

EXTRAS
1 egg $1.50
Bacon or Peameal (3 pcs) $3.00
Ham (2 pcs) $3.00
Sausage (3 pcs) $3.00
Toast or Eng. Muffin $2.00
Bagel $3.00 or Bagel and cream cheese $4.50

Fruit Plate $6.00
Home Fries,baked beans $2.00
APPETIZERS
Soup of the Day
Our Chef's creations made daily
$6.00
French Fries


$8.00
Sweet Potato Fries
Served with chipotle mayo

$10.00
Onion rings
Served with house dressing

$10.00

Deep Fried Pickles
Served with house dressing

$12.00
Deep Fried Zucchini
Served with garlic dip and a lemon wedge

$13.00
Mozzarella Sticks
Mozzarella lightly battered in a crisp shell served with marinara sauce
$13.00
Chicken Wings (Breaded or baked)
Your choice of sauce: BBQ, Medium, Hot, Suicide, Honey Garlic, Cajun Dusted, Lemon Pepper, Salt & Pepper, Mango Habanero, Siracha Lime, Sweet Thai Chili
Served with one sour cream
Additional dip $0.99
1lb. $14.00
2lb. $23.00

Fare Nachos
Corn chips, cheese, tomatoes and green onions, served with side sour cream and salsa
Add chicken or beef $5,add steak $7
Add guacamole $3
Sml $8.00

Lrg $14.00
Egg Rolls
$2.00
Garlic Cheese Bread
Toasted ciabatta with garlic butter and melted mixed cheese. Add bacon $3
$11.00
French Onion Soup
Sweet onion,Sherry wine and beef broth topped with croutons and Swiss cheese
$9.00
Hot Dog
add fried onion or coleslaw $1, or cheese, bacon or chili for $2
$5.00



SALADS
House Salad
Spring mix with tomato, red onion and cucumber served with choice of dressing
sml $5.00
lrg $11.00
Caesar Salad
Romaine lettuce tossed with Caesar dressing, bacon, croutons and parmesan cheese
sml $7.00
lrg $13.00
Beef Taco Salad
Iceburg lettuce with tomatoe,onion,cucumber and blended cheese topped with Texas longhorn ground beef, nacho chips,salsa and ranch dressing
$14.00
Greek Salad
Iceburg lettuce with onion,black olives,feta and Greek dressing
sml $6.00
lrg $13.00




ADD TO CHOICE SALAD
chicken breast $5
grilled steak $5
salmon fillet $7
MAIN FARE

Choice of side : mashed potatoes, fries, rice pilaf or garden salad
substitute caesar salad, onion rings, sweet potatoe fries for $2.00
8 oz Top Sirloin
Cooked to your liking,with vegetables and choice of side
$23.00
Grilled Salmon fillet
Salmon fillet topped with choice of lemon pepper,or cajun spice served with vegetables and choice of side
$20.00
Liver and Onions
Served with bacon and onions with a rich homemade gravy, served with vegetables and choice of side
$16.99
Fingers & Fries
Signature chicken fingers, lightly breaded, fried to a golden crisp, served with fries
$16.99
Fettucini Alfredo
Fettucini served in a creamy parmesan sauce , served with garlic bread . Add chicken or shrimp for $5.00
$16.00
Soft Taco Dinner
choice of battered cod or grilled shrimp topped with lettuce,tomatoe and lime garlic aioli served with choice of side
$17.00
Fajitas Single $19.00...............Double $37.00
choice of chicken,beef or shrimp,served on a sizzling plate of onions and peppers with side cheese,lettuce,sour cream,salsa and warm tortillas...........Add guacomole $2
SANDWICHES & WRAPS
All served with fries. Substitute for Caesar salad, garden salad, onion rings, rice, mashed potatoes or sweet potato fries $2
Fare chicken sandwich
Grilled chicken breast, Cajun spice, lettuce, tomato, cheddar cheese and chipotle mayo

$17.00

Club Sandwich
Traditional club with marinated chicken, lettuce, tomato and bacon on choice of bread
$17.00
Steak Sandwich
5oz steak cooked to preference on garlic bread with sautéed mushrooms and onions
$17.00
Smoked Meat sandwich
On marble rye, served with coleslaw add Swiss cheese $1.50
$16.00
Crispy Chicken Club
breaded chicken on a toasted ciabatta with lettuce,tomatoe, bacon and house dressing
$17.00
Signature grilled Cheese
$9.00
Chicken Club Wrap
grilled marinated chicken,lettuce,tomatoe,bacon,mixed cheese and mayo


$16.00
Philly Steak Wrap
marinated steak,lettuce,mushroom,onion,green pepper,melted mozzarella and house dressing
$17.00
Buffalo Chicken Wrap
Spicy chicken, lettuce, tomato, and cheese with a house sauce

$16.00
Chicken Caesar Wrap
Crisp romaine lettuce, bacon, Parmesan, and grilled chicken with a creamy Caesar dressing (want it spicy, just ask)
$16.00
Grilled Vegetable Wrap
grilled red pepper, carrots,zucchini,red onion,lettuce,tomatoe with choice of Italian or balsamic dressing
$14.00
BURGERS
All burgers are locally sourced from Black Creek Farm. Come dressed with onion, lettuce and tomato and served with fries.
Additional patty $6 add bacon , cheddar cheese ,feta,swiss,mushrooms, jalepenos,olives or hot peppers $2
Substitute for Caesar salad, garden salad, onion rings, rice, mashed potatoes or sweet potato fries $2
All Beef or Grilled Chicken Burger
$15.00
Buffalo Chicken Burger
breaded chicken with hot sauce, Swiss cheese and blue cheese
$16.00
Raging Bull Burger
two beef patties with bacon, jalepeno,cheddar cheese,bacon,Swiss cheese,bbq sauce,pickle and onion ring
$24.00
Veggie Burger
Beyond the meat patty with all the fixings

$14.00
Chicken Parmesan Burger
breaded chicken breast with mozzarella cheese and marinara sauce
$17.00
PIZZA
S
M
L
Plain
Sauce cheese only
$10
$14
$20
1 Ingredient
$11
$16
$22
2 Ingredients
$12
$18
$24
Combination
Pepperoni, mushroom & green pepper
$12
$16
$22
Meat Lovers
Pepperoni, sausage, ham & bacon

$14
$18
$24
Canadian
Pepperoni, mushroom & bacon
$13
$17
$23
Veggie
Mushroom, olive, green pepper & onion

$12
$16
$22
Hawaiian
Ham & Pineapple
$12
$16
$22
BBQ Chicken Pizza
BBQ pulled chicken, red onion & BBQ sauce
$15
$19
$25
Fare Special
pepperoni,mushroom,green pepper,onion,green olives,sausage & bacon
$15
$19
$25
Chicken Alfredo
Grilled chicken,Alfredo sauce,mozzarella & parmesan cheese
$15
$19
$25
Tex Mex longhorn beef,jalepenos,green pepper,red onion & cajun seasoning
$15
$19
$25
Extra Toppings
$1.75
$2.5
$4
Toppings: extra cheese, onion, green peppers, mushrooms, olives, tomatoes, pineapples, ham, pepperoni, Italian sausages, bacon, cherry peppers, jalapeños, and green onions
PUB FARE
Fish & Chips
Fresh battered haddock,fried to golden perfection and served with tartar sauce and coleslaw
one $15.00
two $22.00
Classic All Beef Hot Dog Platter
two all beef hot dogs served with fries, add onion or coleslaw $1 each or cheese, bacon or chili $2 each
$14.00
Chili Bowl
Chili topped with melted cheese and served with garlic bread
$13.00
Oven Baked Mac n Cheese
pasta in a homemade cheese sauce with baked mozzarella and bread crumbs. Add bacon $3
$11.00
Poutine
fench fries with cheese curds smothered in a rich dark gravy
$11.00


Quesadilla
Mixed cheese, green onions, tomatoes and jalepenos in a flour tortilla. Served with sour cream and salsa.
Add chicken or beef $5, Guacamole $3
$12.99